We have a completely new solution for mobile chat! From now on, also mobile visitors are perfectly supported, with text, voice and video chat.
That is especially important, since the share of mobile surfing user is growing rapidly. A prospering market segment, and a interesting target group!
That's why "mobile" is also for us a very important issue. Those who don't offer a reasonable solution here miss out a huge potential - and won't be able to keep up!
When looking at competitive solutions, it gets quite obvious that it's a challenge to solve the "mobile difficulties". Many had to accept trade-offs and can only grant limited possibilities for the mobile visitor. Solutions which barely offer the required possibilities.
An additional issue are the different devices - and also resolutions. A challenging task. We are very proud that we have been able to realize such a good solution, one that enables the chat on every device.
Long-term success will inevitably be won by those who shift their focus to serve users, not search engines. - Lisa Mieskoski, empowermm.com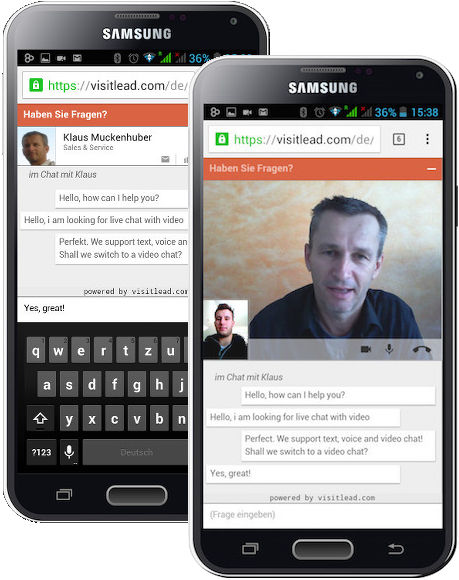 For us, it was a key point to also integrate the additional opportunities from voice and video chat - without restrictions. Like in the usual, desktop based chat you can switch at any time between text chat, voice chat or video chat and you can also use the Full Screen View. With that, your website chat software is also perfectly optimized for mobile visitors.
Our mobile friendly advantages
Easy to alternate between chat and website
Also readable and usable on mobile devices
No need to zoom the chatbox
No additional opened browsertab
Text Chat is also usable during video chat
Also works with a limited bandwidth
Low data usage
We think 'perfect live chat software for mobile devices'. Try it yourself! RIGHT NOW