There is an addition to our browser plug-ins. "Visitlead Connect" A small icon with surprisingly many - and practical functions.
Features
Switch to the Visitlead tab with one click. A blessing, especially with a lot of tabs open. Especially if there are so many, that only the Favicon will be displayed, it can sometimes take a while until you find the right one. Just click and the problem is solved.

See your own status. It happens from time to time that you miss a chat and the system puts you on "red" or you will be logged out through timeout. Or the other way around, you simply forget to log in. One look is enough.

Are there visitors on the website? And how many? Next to the desktop notification (active in the user settings) and the acoustic message "New Visitor" it is another aid not to miss any interesting visitors. Do I have visitors in workspace - the little number will display it.

If a chat comes in, that can occasionally be overlooked or missed. The icon will help here too. With a new chat the Icon will "flash" and with one click you are in the Visitlead tab.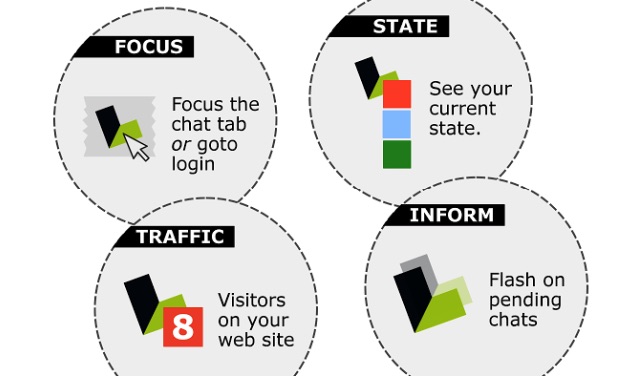 Install yourself: Link to the Chrome Store
The plug-in is free - if you like it, please leave 5 stars in the store.
Explanatory note: Like Screensharing this plug-in is currently only available for the Chrome browser. The base function (activate tab) is available in Opera.