Exit Intent Popup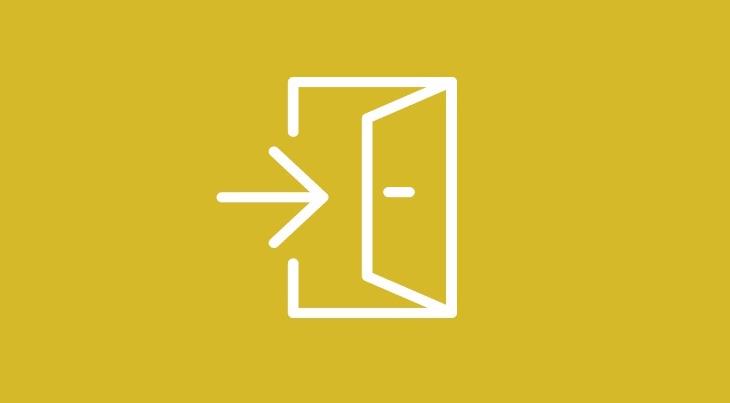 The new "Must Have" in Online Marketing
Internet marketing has one central mission – to reach the visitor. The goal is to get even more visitors who also spend even more time on one's own website.
Perfection is accomplished when the guest not only takes a long look around, but also initiates an 'action', such as subscribing to the newsletter or directly placing an order. So far, so good – in theory.
In practice, an innovative and successful idea called Exit Intent can be put to good use. Exit Intent helps to increase the time your visitors spend on your website and to motivate them to take action. It works. It even works amazingly well.
The Idea behind Exit Intent
Just stay a Little Longer!
Getting good 'traffic' on a website is often harder than you might think. Simply going online with your own website is rarely enough. A lot of work, time and especially money have to be invested instead. Be it AdWords, SEO measures, retargeting, email or rather newsletter marketing or high-quality content – everything costs money.
You might even be surprised by how expensive the sum of costs for your website is. If you are honest, SPAM doesn't water down your traffic and you calculated the cost by dividing by the number of visitors – the sobering result will be that every guest costs money and has therefore an immediate value.
This is a sound argument and incentive to make sure to use every visitor as effectively and efficiently as possible. The right solution: Exit Intent.
How does Exit Intent Work?
Exit Intent means realizing when a guest wants to leave a website. This can be seen particularly well by the mouse movement. With the help of an algorithm, a preview of how the cursor will move is calculated via speed and direction and in the very last second – right before the cursor reaches the closing button – a popup is superimposed.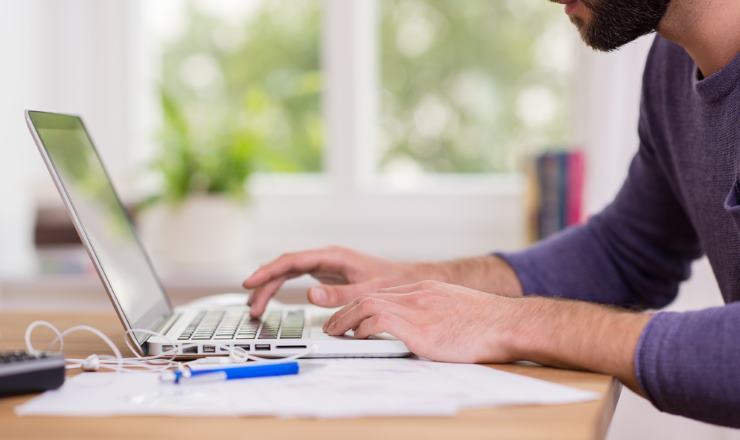 The visitor won't perceive this as a calculated move, but will rather see the exit popup as a random overlay. Only those familiar with the Exit Intent strategy will realize the connection between the intention of leaving the page and the popup.
Another advantage of the Exit Intent popup: In that particular moment the visitor is no longer engaged in the content of the page, therefore, the overlay regains their full attention
This is great timing, not only for the website operator. The exit popup ideally also offers a certain added value, an advantage: the download of an interesting e-book, a coupon code, a complimentary bonus or a discounted first order. Different offers can be experimented with and implemented here, depending on industry and business – just be creative.
Why You Should use Exit Popups?
Don't be Pushed Aside prematurely
Deciding to close a tab is rarely a rational and thoughtful decision. Most of the time it is a small detail, a subjective and emotional thing. A decision made about 200 times each and every day without wasting much time thinking about it – after all, it is just one single click.
Particularly in the early stages, one has not yet established any emotional ties to a website, causing the selective process and choices to be very superficial. Herein lie the best chances and key benefits which make Exit Intent so successful.
An Internet user's decision not to close the tab of your exact website among those of your 10 competitors is crucial for sales and profits later on. Next to the final decision to purchase, this might even be the most important decision in the entire sales process. Exit Intent has a positive impact on this process.
A Potential of 97%!
The typical Internet user is inactive. Most website visitors merely busy themselves checking out content and about 97% of all guests leave the page without taking any further action. Behind this principle lies enormous potential to raise conversion rates and improve the efficiency of your website.
Professional Exit Intent does not consist of a mere ad overlay. Instead, the popup offers a useful added value and invites to take action – this is the so-called call-to-action. The visitor is forced out of his passiveness by being asked to fill in a form or to choose between several different offers. Especially choosing between several options makes the prospective customer really think about an offer – and just like that the brand name is memorized as well.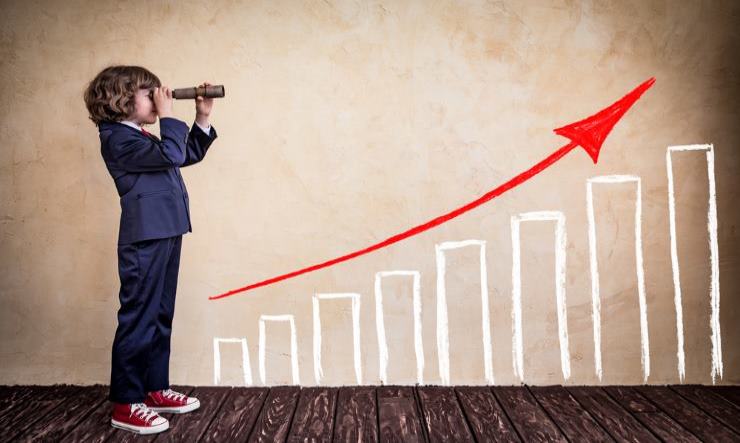 But a longer average stay has even more advantages. Not only does it intensify the connection to the company and its products/ offers, but it also increases the possibility to extend the contact via methods such as LiveChat or Screensharing.
As mentioned previously, every visitor costs money. Once he has left your website, chances are slim and one can only hope that he returns at all.
Strategically Perfect Placement
Your convincing message can be placed perfectly via Exit Intent. That is, exactly in that instance, when the user is on your site – because that means that he is in the right place, already interested in your products or offers. As the guest is facing a decision, this is the ideal moment. These are the optimal preconditions to transform a mere visitor into a customer, via Exit Intent.
Reducing Shopping Cart Abandonment
A frequently observed phenomenon: Prospects placing products in their shopping cart on e-commerce websites. These are highly valuable leads, which have already decided upon a product. Despite the obvious purchasing interest, the shopping cart already holding items is abandoned and they leave the page without placing an order. Another instance where Exit Intent can be of great help – for instance offering a coupon code or credit off the first order. Such an overlay is oftentimes the decisive impulse to order what's in the shopping cart after all.
Why Exit Intent
The Advantages
Raising the average stay
Higher conversion rate
Increasing customer loyalty
Using the potential of 97% inactive internet users
Significant customer advantage
Reducing cost per visitor
Sources and Details
Examples for Exit Intents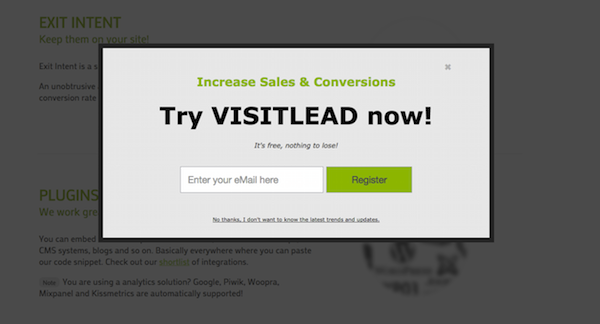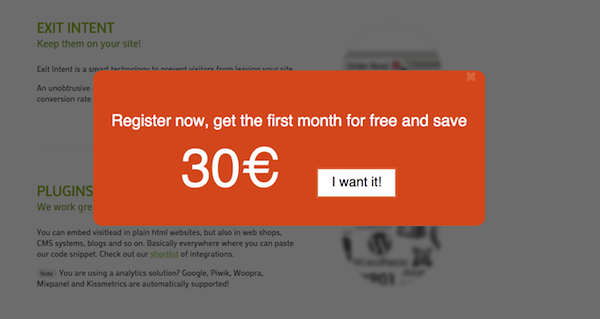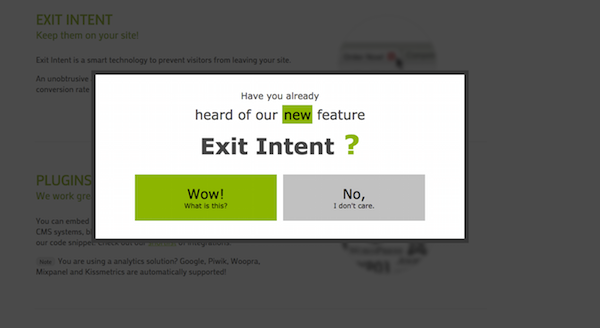 Your Own Advertisement, Your Own Marketing
Additionally, Exit Intent is also suitable for the promotion of cross-selling products, coupon codes, prize competitions or special offers. Even special bonus downloads or newsletter subscriptions are perfectly viable …
The possibilities are endless. However, it should always be ensured that the customer is offered a real bonus or additional benefit – this is substantial for successful Exit Intent.
Customized Visualization
VISTILEAD offers templates when it comes to the graphical visualization, however, any kind of illustration can be realized, any picture integrated. Perfectly customized to fit your personal product and your company's CI.
The Optimal Solution
Everything Under one Roof – with Visitlead
Exit Intent is but one of many VISITLEAD features. All of which can be integrated with one single line of JavaScript. Everything is accessible with one consistent interface, and under one roof. Further features include e.g. Visit Tracking, Co-Browsing, Heatmap, Website Widgets, Live Chat, Voice and Video Chat, Screensharing … and much more.
Smart Preferences
The VISITLEAD Exit Popup also offers flexible preferences and configurations making sure that the same offer isn't displayed repeatedly. As with everything in life, the right measure is key. Therefore, one certain Exit Intent should not appear repeatedly to one user. And you dont need an extra exit plugin, it´s a part of VISITLEAD.
Install Exit Intent now via Visitlead
Install Exit Intent for your website today! You are unsure, whether Exit Intent will have the desired effect? Go ahead and test VisitLead for 10 days – for free – observe how the average length of stay is raised and your conversion rate increases. You don't have anything to lose, except for more business opportunities.
Start now.
try it for free on your website