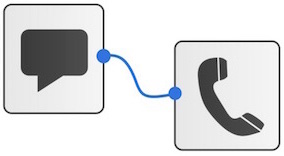 Video Chat - for business website!
Until now, it was technically almost impossible to integrate a 'video chat' on a website - especially without special addons.
Visitlead includes this feature now in ever license (as well as voice chat!) and without limitations or additional cost!
try for tree!
Video chat in detail...
From live chat to conversation!
Video chat is particularly interesting for branches and areas where a personal relationship is important - and where emotions and trust play a role.
A face to face conversation is the best way to bring in your arguments - and with our Video Chat solution you have this possibility also on your website!
The video chat (and also the voice chat) are included into our usual chat interface. This way, the visitors focus stays on your offers and products, and also the website itself is still useable.
Both parties of a conversation can set if they want to transmit video or just voice.
Possibilities of usage
Of course, not everybody will use a video chat. We see it's biggest potential in areas with personal relationships, customer service and support and for the internal communication!
Video Chat for Business Websites
Video chat is almost like a face-to-face conversation - a modern and innovative solution for an efficient communication. Contact us and schedule a demo, or just
Try it now for free!
try it for free on your website